Karen Lucille "Lucy" Hale (born June 14, 1989) is an American actress and model. She is known for her roles as Becca Sommers in Bionic Woman, Rose Baker in Privileged, and Sherrie in the horror film Scream 4. She is also known for her appearance on the reality show American Juniors. She now plays Aria Montgomery on the ABC show Pretty Little Liars co-starring Ashley Benson, Troian Bellisario, and Shay Mitchell. Edit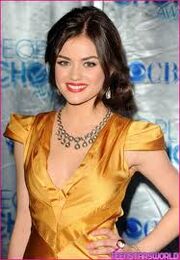 Early Life
Edit
Lucy Hale was born on June 14, 1989 in Memphis, Tennessee. She first appeared on the reality show American Juniors in 2003. She was part of the vocal quintet formed with the top 5 finishers.[1] She is the youngest of three with a sister named Maggie, and a step-brother named Wes.
Hale was a guest star on many shows such as Drake & Josh' (as Hazel), Ned's Declassified School Survival Guide, (as Amy Cassidy) The O.C (as Hadley Hawthorne), and How I Met Your Mother (as Katie Scherbatsky). She appeared in two episodes of the Disney show Wizards of Waverly Place, which led to her dating co-star David Henrie' for a short time.
In 2007, Hale appeared in "NBC's" short-lived re-imagining of the Bionic Woman as Becca Sommers, younger sister to title character Jaime Sommers (played by Michelle Ryan).[2] In The Sisterhood of the Traveling Pants 2, she portrayed Effie, the younger sister of Lena Kaligaris. She then co-starred in the CW TV show Privileged as Rose Baker, with Ashley Newbrough and Joanna Garcia.[3] She also starred in the Lifetime TV movie Sorority Wars.[4]
In December 2009, Hale was cast as Aria Montgomery in the TV series Pretty Little Liars, based on the book series by Sara Shepard.[5] Hale won a 2010 Teen Choice Award ("Choice Summer TV Star: Female") for her portrayal of Aria on the show.[6]In January 2010, Hale guest-starred on the CSI: Miami episode "Show Stopper".[7] In August 2010, Hale was cast in a small cameo in Scream 4.[

Hale has been reported to star alongside Hayden Panettiere and Nikki Reed in the upcoming 2012 film Downers Grove. She is also set to star in Halloween 3D as Hannah and is in the 2011 film Ten Year.
The movie is about 17 year old Katie Gibbs. She has a love and passion for music. In the movie, she consistenly does her stepmother and step-siblings' bidding without complaining. She's constantly harassed by her stepbrother. In February 2011, Lucy started tweeting pictures of her on set of a movie called Another Cinderella Story. On March 3, 2011, Popstar Magazine announced that they were on set of A Cinderella Story: Once Upon A Song.[9] You can find more about the movie here.
Personal life
Edit
Sometimes fans mistake her for Selena Gomez.