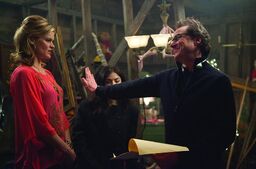 Gail Van Ravensway is the main antagonist of "A Cinderella Story: Once Upon A Song".
She is portrayed by Missi Pyle.
Gail is the biological mother of Bev Van Ravensway, Victor Van Ravensway, and the stepmother of Katie Gibbs. She is a greedy and selfish person who treats Katie as a slave and has no awareness of her talent. She constantly manipulates and abuses her as well.